Lauloves yoga is Laura Anderson… a yoga teacher who has set up in Darwin and teaches at three different locations within Darwin.
Laura has been using wordpress for a year but had grown out of the initial off the shelf theme that she had originally chose.
While the wordpress site was able to do everything that was required for her needs, it lacked character and personality to match her brand.
We sat down and discussed the kind of look and feel that Laura wanted for her site, and how the tone of the site should come across to her readers and students.
Armed with that knowledge I set to work first coming up with the logo design. Laura was happy with the first draft, however we had used the original Union Jack colours that created the wrong mood for the site.
We came up with the colour palette and applied this to the logo, and from there it all fell into place.
The site was rebuilt using tweaks to the Thematic theme, and continues to use WordPress as the CMS behind the scenes.
Page Templates
[one_half]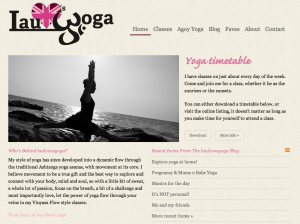 [/one_half][one_half_last]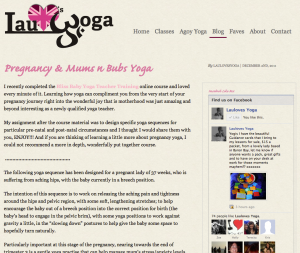 [/one_half_last]
If you have an existing site and you're looking to give it a bit of a face lift then contact us now for a free 30 minute consultation. If you after that you don't think I'm the right person for the job you'll still be 30 minutes more informed about what you need to do next.